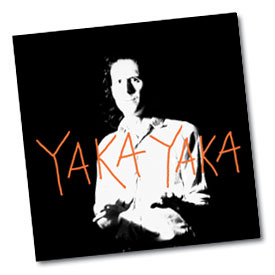 Yaka Yaka
"YAKA YAKA! That's the password to my cave."
One man's story of grief, insanity, and redemption in a violent world.
"As much a literary as an exclusively musical recorded work, this concept album chronicles an impressionistic, growling antihero's personal journey spent unspooling through a madness ignited by John Lennon's murder. In its Spartan way, this instrumentally backed spoken word album is a brutal miracle...profoundly unsettling and brilliant." Francis DiMenno, The Noise
Available as a download at hi-n-dry.com or as a physical cd at cdbaby.com.
Lyrics for Tracks from Yaka Yaka
Yaka Yaka | Victims of the Flood | Goodbye Dear Friend | Something is Broken | California | I Still Miss Someone |
Hospital | You're in the Computer | Runaways | Blue Shakra | The War is Over