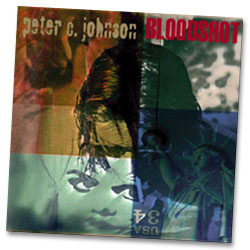 Bloodshot
"Though Johnson has been relatively quiet for the past two decades, Bloodshot is sure to spark a comeback. His deep, crackling voice is the perfect accompaniment to his detail-laden, folksy lyrics. There's an undercurrent of honesty that flows throughout Johnson's music, lyrics and voice, making Bloodshot an album that one can listen to over and over again."
—Rob Bellinger, The Tufts Daily
"Making this record was very different from my past studio ordeals—my 1978 A&M record took over a year and bled me dry. Like a lot of my colleagues, I don't care about being in 'show business' anymore. Twenty years ago major labels were the thing. It was a big deal to get signed. People kissed your ass and hung on for the ride, but when the ride looked grim, people evaporated. Poof! Hello? My real friends, the people I worked with on this CD, went through the same experience. Their modesty would astound you and endear them to you. Happily, they're just people who respect the work and each other. They really are spiritual philanthropists, and I am grateful that, after so long, they let me in again."
"These tracks were done pretty much live. I don't think we did more than two takes of anything. It has a nice edge and reflects my feelings and sensibilities as I age. If anyone is interested, I'll keep making songs and recordings. Otherwise, I'll keep making songs and recordings."
Purchase BLOODSHOT online now at Windjam Records.
Reviews of "Bloodshot"
"...one of the most deceptively stunning things I've heard all year. After 20 years of silence (following an already-virtual lifetime of making records with artists like Bonnie Raitt and Nils Lofgren, and opening shows for everyone from The Velvet Underground to The J. Geils Band), Johnson resurfaces with a disc which, despite (or because of, excuse the cliche) its restraint, packs a bigger punch to the gut than 50 wheelbarrows fulla Cracktorch CDs. Much of it is literally whispered, both musically and vocally, naked and gorgeous, and the effect is not unlike being five years old, listening to your grandfather telling you war stories in dead silent night. It scares the hell out of you, but is ultimately reassuring... And you look forward to the tough times with new resolve, and you think, "I can make it through this. Bring it on." Most of you probably already have an artist or two who provides this sort of catharsis. I'm happy to finally join, however tentatively, The Human Being Club." - Joe Coughlin, The Noise
"It's been a while, but the voice - a creaky rasp reminiscent of Keith Richards or Kris Kristofferson - remains commanding and often piercing. After two decades away from publicly making music, former Boston/Cambridge scenester Peter C. Johnson issues "Bloodshot," a wry, rootsy, singer-songwriter set on local label Windjam Records. The moody "Statue of Liberty" is an old-world waltz, with Johnson growling, "Statue of Liberty, turn around and face your people." Lighter in tone and with a sassy rhythm, "Why Call Me" dismisses someone who only calls when other options dry up. And the hilarious "I'm a Dog" finds Johnson throwing around couplets like "I don't think and I don't talk, but I can do that crazy butt walk." Backed by a band that includes Asa Brebner, David Champagne, Steve Sadler, and Billy Conway (Morphine), a Tom Waits-style knowing dourness lights Johnson's pithy lyrics. Johnson is at Johnny D's tonight." - Linda Laban, The Boston Globe 11/29/2001
"Honest roots rock. No matter what Peter C. Johnson says, you'd probably listen... Though Johnson has been relatively quiet for the past two decades, Bloodshot is sure to spark a comeback. His deep, crackling voice is the perfect accompaniment to his detail-laden, folksy lyrics. His backing band, using everything from [banjo] to lap steels to trumpets, gives a distinct feel to every track on the album, from the warm tones of "Statue of Liberty" to the faster-paced, thought-provoking "Ragged Religion." There's and undercurrent of honesty that flows throughout Johnson's music, lyrics, and voice, making Bloodshot an album that one can listen to over and over again." - Rob Bellinger, Tufts Daily