History, cont'd... <<back to history page 1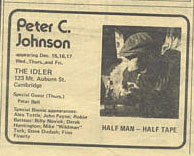 Peter went to the "woodshed" with a 4-track tape recorder for nearly two years to "find his own voice." He emerged with what he called "Half Man Half Tape." Accompanied on stage by five or six mannequins and a ton of electronics which reproduced his own multiple voices (as well as phantom guest appearances by musical buddies Andy Pratt, Robin Batteau, and John Payne), he broke all attendance records at The Idler. His new show attracted the attention of John Anthony (Genesis, Al Stewart, The Stranglers) at A&M Records who signed him to the label. "A&M liked what I was doing with sound, so they bought me a studio and let me produce the record at home. I was like a kid in a candy store."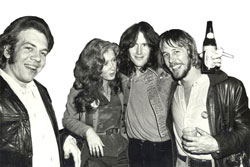 The album, featuring Nils Lofgren, Bonnie Raitt, and Andy Pratt, was critically acclaimed:
"He makes his own little world so inviting that you want to visit! Johnson is too ingenious to be cloying, cute or laughed off." —Boston Phoenix

"A masterful artist awash within the nuances of Dylan and Van Morrison; a stunning poet with impressionistic, tight, and surrealistic lyrics." —Dennis Metrano
"This Boston-based poet's way with words is matched only by his unusual perspective of the world he lives in." —Chicago Sun-Times

"Peter C. Johnson is a musician with such originality that he is able to create moods that are sometimes even indescribable." —L.A. Times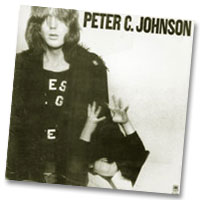 The release was a recommended LP in Billboard and did exceptionally well in Europe. The record sold over 60,000 copies during a national promotional tour. "I'd written a bunch of new songs, so A&M went to John Cale (Velvet Underground) up to work with me as a producer. John and I were not exactly choirboys at that point, and we had a fine old time over the next couple of months. Unfortunately, we didn't bother to let the record company know what we were up to. The thought of returning their frantic phone calls never occurred to either of us. I guess we pissed them off, so they dropped me. John continued to be an important mentor for me, but we did have an amazing knack for mischeif."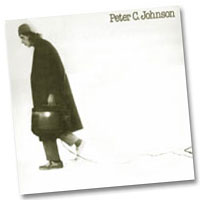 Peter was signed quickly by CBS Records and produced another album in his own Mongoose Studio. Bill Flanagan wrote in The Boston Globe, "...one of the best rock albums of the year. That an American album this good is available only as an import is just crazy!" The CBS project was followed by his signing with Lamborghini Records in London, where he recorded with members of Nick Lowe and Carlene Carter's band.
"Alas, bad behavior had really caught up with me. I hated the record, flew to California, and went into rehab. When I got home, I opened a commercial studio on Newbury Street with my old buddy Peter Bell of the James Montgomery Band. We did commercials and film scores (for which we won an EMMY) until we literally blew up."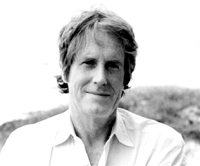 In 1998, Bonnie Raitt called her old pal Peter and asked him to join her on stage at Harborlights (now the Fleet Boston Pavilion). It was this invitation that breathed some old truths back into his lungs—that musicians are inspiring, supportive, and generous. A couple of years later, David Champagne (Treat Her Right) re-introduced himself to Peter at an Asa Brebner (Modern Lovers, Robin Lane, Idle Hands) gig, and the stew was in the pot.
Now, in 2007, YAKA YAKA is Peter's third CD to be released in the past 6 years.